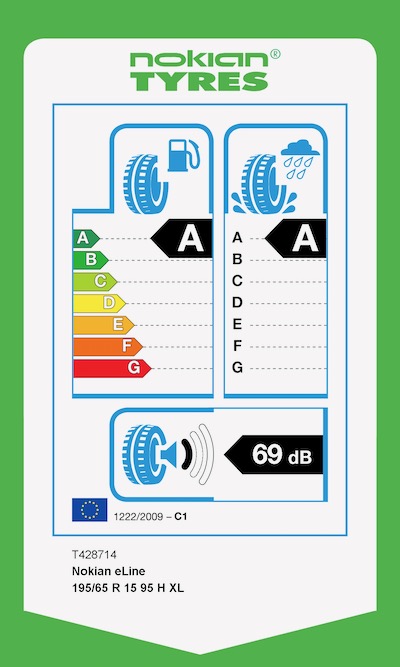 Since a lot of the people that buy an electric car of hybrid are environmentally concerned, they want to make sure that they drive with tyres that have low environmental impact. The tyres should be manufactured without dangerous chemicals and allow for maximum recyclability. When driving the tyres should contribute to the hybrid's lower carbon dioxide emission and have a longer distance reached per charge for electric cars.
When you purchase new tyres you should special attention to if they are recommended for use with electrical cars and hybrids. If they are not recommended or there is no information you should refrain from purchasing them.  Pay special attention to the rolling resistance.  Tyres with lower rolling resistance require less energy to rotate, which reduces the energy consumption, but also ensures a lower heat buildup within the tyres. Electric car tyres that have low rolling resistance will get you further with a single charge and have a lower environmental impact. The wear will also be lower, so that your tyres will last longer and you will produce less tyre waste. The EU tyre label indicates energy efficiency for tyres, so you should select tyres that have the highest rating, which is rating A.
High-quality tyre is needed for powerful electric cars, as it brings out the best in them. Premium tyres are designed to retain their finely designed characteristics throughout their life cycle.  High quality means durability and safety and minimal visits to the service shop and long trouble-free service life. What you will do is you need to make sure that you have the right tyres for the season and you have change tyres when the season changes so that you have winter approved tyres for the seasons which include any likelihood of snow, ice or sub-zero temperatures. For summer tyres you can use the EU tyre labels to get a good indication on fuel efficiency, wet grip and tyre noise, while for tyres used during the winter you will need to rely on other sources for information.  Here it is good to look at various tyre tests that is performed by different magazines every year.
Key properties for summer tyres are low rolling resistance, good wet grip and for ultimate driving comfort also low external tyre noise. While for winter tyres you need to make sure that you find tyres that have excellent grip on snow and ice and can cope with slush. If you choose all-weather tyres that can handle both summer and winter conditions, then you will need to have tyres that are winter approved. They also need to be able to cope both with winter and summer temperatures.
Many owners of electric cars or hybrids choose non-studded winter tyres for their comfort, but for those who want studded tyres, which have better grip on ice, there are now nice silent studded tyre models. With electric cars, the external noise becomes important.
For more information regarding tyres that are recommended for electric cars or hybrids, visit: nokiantyres.com